WIN A $300 RED BALLOON GIFT VOUCHER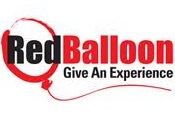 This week Business Events News and inPlace Recruitment are giving you the chance to win a $300 Red Balloon gift voucher to indulge in an amazing experience of your choice.
As the MICE job market heads into full swing for the year inPlace Recruitment is asking you:
What office perk would you choose, to make your workplace more satisfying and why? (in 25 words or less) 
Email your answer by COB on Friday 15th February to:
comp@businesseventsnews.com.au
Note: This competition ran in February 2013 and entries have closed.